Free Updates to My Mac Maintenance and Troubleshooting Books
Technology never sits still, and as computer hardware and software evolves, I like to make sure my books reflect the current truth. Although I can't keep everything I've written perfectly up to date (I'd spend my whole life doing nothing but updates!), one of the reasons I adopted several of my Take Control books and turned them into Joe On Tech titles was that I wanted the opportunity to keep these valuable resources current, since Take Control didn't have the resources to do so (and I can hardly blame them—after all, I have written 53 books for them so far!).
Today I'm happy to announce updates to two Joe On Tech guides. Both are free to anyone who had the previous version. I've already sent email to people who bought these books directly from me, informing them of the updates and how to obtain them. If you have the book and didn't hear from me for some reason, click the Check for Updates link on the next-to-last page of the book. (If you have the paperback version of either book, I obviously can't update that for free, but the Check for Updates URL in the printed book will tell you how to download the latest version in ebook format.)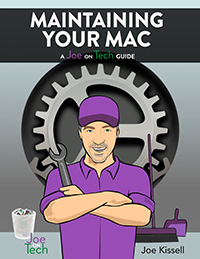 First is Maintaining Your Mac version 1.1. This is a minor update to address a few small issues that appeared after the book's original publication:
Added A Note to Readers, which describes all four "Mac fitness" books from Joe On Tech

Changed all the alt.cc and joeontech.net links to use HTTPS

Switched to using the term "macOS" (the new name for OS X starting with Sierra, due in late 2016) where possible

Updated names, URLs, and pricing for various products

In the sidebar Other RAM Tests, added Atomic to the list of tools for testing your RAM

In Exercise Your Notebook's Battery, mentioned Apple's advice to calibrate batteries in notebook Macs with removable batteries

Corrected the name of the link to click for updating Take Control ebooks in Check for Ebook Updates

Updated the sidebar RAM Usage Meanings to reflect the correct labels for memory usage categories in Mavericks and later

In Monitoring Utilities, added Checkmate to the list and included a note about a version of MenuMeters that works on 10.11 El Capitan and later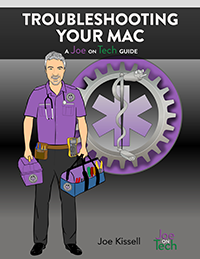 Next, Troubleshooting Your Mac: A Joe On Tech Guide has moved to version 1.0.1. In this comparatively tiny update, I've made just a few small adjustments to keep the book current:
Changed all the alt.cc and joeontech.net links to use HTTPS

Switched to using the term "macOS" where possible

Addressed a few small errors and formatting inconsistencies

Updated A Note to Readers (and several other portions of the book) to reflect the availability of Speeding Up Your Mac

Added a new utility from Micromat called Atomic to the list of tools you can use to Check Your RAM

Added a link to a book in Printing Doesn't Work that, somewhat ironically, was missing only in the printed version of this book
One last thing: I'm this close to finishing a brand new, second edition of Backing Up Your Mac too! Like the others, it will be a free update (even though the changes are much more substantial). Check back in a couple of days for news.